James Balog: Conceptual Breakthroughs
There are few people who have made a significant impact on changing others' minds and their directions on major issues pertaining to nature. James Balog, an American photographer, has dedicated his life's work to empowering others to make a difference through a unique combination of art & science.
Balog's first projects involved photographing nuclear missile silos and brutality to animals, featuring graphic and gory images, providing insight into the industry. In his attempt to impact viewers and promote positive change, his approach accomplished quite the opposite. His work evolved into a genius amalgamation of art, science and environmental documentation; which bred shocking results, getting the attention it deserved from international organizations, publications, and landed him several awards, prizes and medals.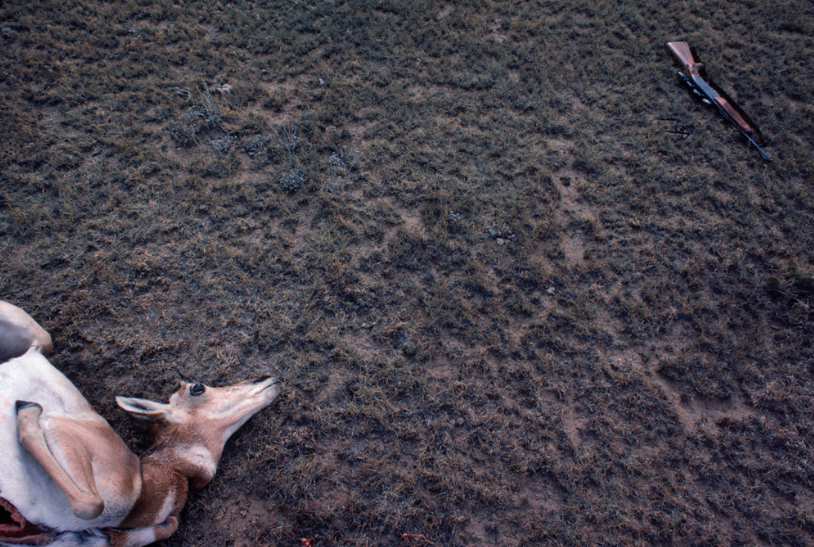 Antelope & Rifle, from WILDLIFE REQUIEM // Rural Garage, Gardiner, Montana, from WILDLIFE REQUIEM // Hells Half Acre, from WILDLIFE REQUIEM
In an effort to move forward with his vision, his early 90's release of 'Anima', was one of profound beauty. His photography of humans and chimpanzees in a conceptually artistic manner challenges us to reconsider our relationship with nature, allowing us to see our similarities and ties in a new light.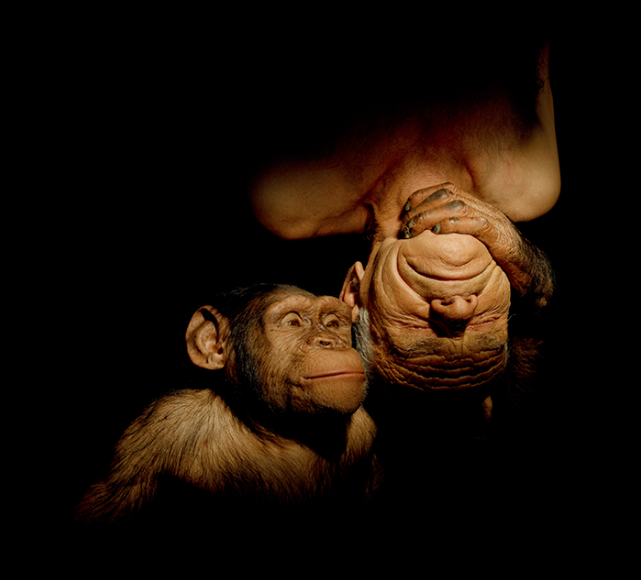 "Transformation" // "Final Boundary" // "Two Torsos"
'Humans & Technology' was an ongoing project throughout the 90's, which during that time, was a new developmental concept. The theory that we, Homosapiens, began as raw creatures, at one with the natural world, dependent on each other and spiritually connected to all living entities. Years later, we have obtained the great accomplishment of advanced technology but are completely disconnected to our roots with a dependency on material objects. We are seemingly smarter and more exceptional than ever but have also become mere subordinates to nature and our surroundings.
"Bomb Helmet" // "Springwalker"
For ten years, James worked on a segment called 'Survivors', another conceptual breakthrough in photographing nature and wildlife. Balog photographed endangered animals in studio settings, outside of their natural habitat. This artistic metaphor symbolized the widespread issue that animals are being pushed further from their environments and surrounded by unnatural settings, resulting in near extinction for many species. A book of this work, 'Animal', was published in 1991, allowing viewers to, for the first time, see the beauty and detail of these animals against a solid and isolated backdrop.
Lowland Gorilla // Greater One-Horned Rhinoceros // Drill // Grey Wolf // Giant Panda
from SURVIVORS
'Changing Forests', a project from 1998-2004, documented some of America's oldest and largest trees. Balog invented a new method of photographing these 300 plus-foot trees by taking a series of images from top to bottom and creating a large composite, capturing the entirety of the tree and its surrounding forest. His book, 'Tree: A New Vision of the American Forest" was published in 2004 after the completion of this project, along with a filmed monologue called 'A Redwood Grows in Brooklyn' (2006).
American Elm, Buckley, Michigan, November 2000, from TREE: A New Vision of the American Forest
Tectonics, by definition, is large-scale processes affecting the structure of the earth's crust. Humanity has the greatest tectonic impact, resulting in expanding issues linked to our dying planet. Balog's photography in this segment opens a door to change through images most of us have never and will never see in person. His message is that change is a mindset, an issue of perception, bad habits and ignorance.
(top left) Boulder Country, Colorado, September 2010: After Fourmile Canyon Fire. Scorched jeep at burned homesite, Sunshine Canyon. (top right) New Orleans, September 2005: Hurricane Katrina aftermath. Flood damaged home. (bottom left) Banda Aceh, January 2005: An incredibly sturdy tree managed to stand against the onslaught of the tsunami. (bottom right) Kilauea, January 2006: On Hawaii's Big Island, lava flows over a cliff and into the Pacific Ocean.
Balog's latest and most recognized project, 'Extreme Ice Survey (EIS): Portraits of Vanishing Glaciers', is not only an award winning concept and body of work, but one that has been globally recognized, enforcing change on a multi-faceted and grandiose scale. By installing time-lapse cameras in Greenland, Iceland, Nepal, Alaska, Antarctica, Austria and the Rocky Mountains, he was able to document climate change and glacier recession through images taken every hour for a number of years. This astonishing work led to the award-winning documentary ' Chasing Ice', which is now also used for educational purposes in schools and universities across the planet.
To learn more about James Balog and his work, visit www.jamesbalog.com.
To learn more about the Extreme Ice Survey and give a donation, visit www.extremeicesurvey.org
'Chasing Ice' can be found on Netflix and we highly recommend it!